Here's Helen's challenge this week!!!
~~~~~~~~~~~~~
Did you know that today is National Lazy Day!! Lazy Day is your chance to goof off, and definitely not work. And, it definitely comes at a good time. Hot, muggy weather today in Southern Ontario makes it easy to kick back and be lazy for a day. If summer chores are not done by now, they can just wait one more day. It is best spent on a hammock, along with your favorite summer beverage.
Today's challenge is to create a layout of what your ideal lazy day would be!
~~~~~~~~~~~~~

Here's Helen's LO: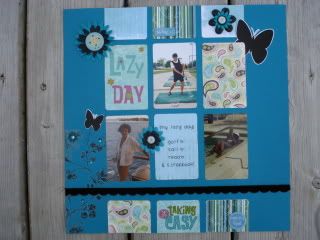 ...Deanne's LO
...Carla's LO
Susan
There are three ways you can enter your project to be considered for our monthly draw prize from our sponsor.
1. Post a direct link to your layout in the comment section.
2.
Send in your layout to Sisterhood of Scrap
before the end of the month. Please make sure you use the link above, or put "August 10" in the subject line. This makes it so much easier for us to filter our emails and ensures that we don't miss your submission.
3. OR post it in our
Sisterhood of Scrap gallery
(you will need to be registered)
Our sponsor this month is the
Cutting Cafe
. They will be sending out 3 sets of stamps to a winner randomly chosen by us!
Also, if you noticed above, the design team has also been given a couple of sets to work with and will be displaying them in all of our monthly challenges this month.